Understanding the Essentials of Energy Performance Certificates.
An Energy Performance Certificate (EPC) provides detailed information about your property's energy efficiency and carbon dioxide emissions. You need to schedule an Energy Assessment Survey at your property to obtain an EPC. During the survey, your Domestic Energy Assessor will conduct internal and external inspections to assess your building's energy efficiency and determine improvements to enhance its efficiency.
The assessor will inspect various aspects of your property, such as windows, roofs, walls, insulation, heating systems, renewable energy devices, lighting, fireplaces, building measurements, and the year of construction. Once the assessment is complete, the assessor will assign an energy performance grade to your property, ranging from 'A' (most efficient) to 'G' (least efficient). The EPC will contain all the details and recommendations to help you improve your property's energy efficiency.
How Long Does It Take?
The duration of an Energy Performance Certificate (EPC) assessment varies, contingent on the property's size and layout. It generally lasts 20 minutes for a studio apartment and an hour for larger family homes.
However, non-residential surveys, such as commercial properties, necessitate a significantly longer duration, with some sizable commercial structures requiring a full day or even more. It is important to note that the time of the survey does not bear on the EPC certificate's cost.
What Does The Rating Mean?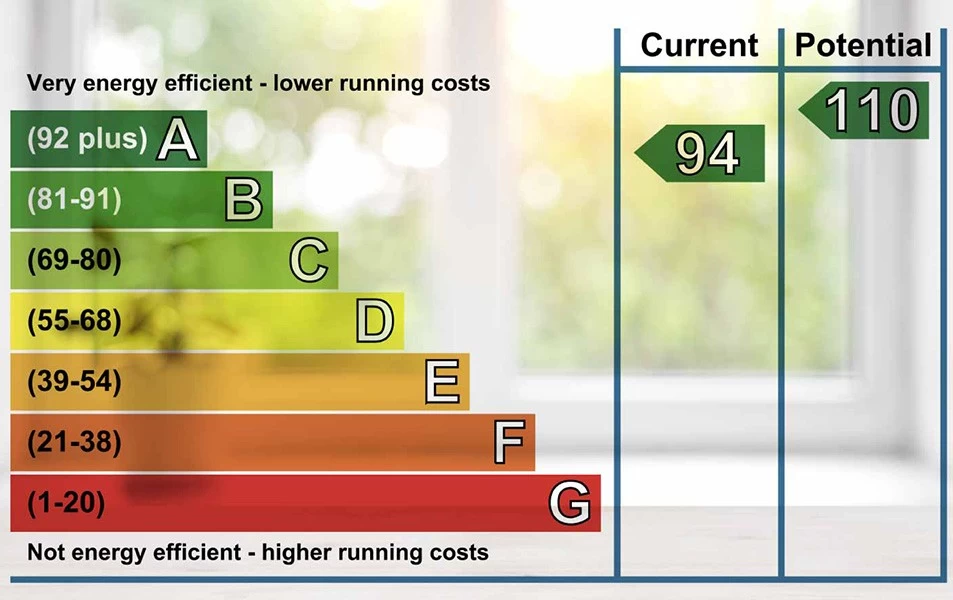 All properties receive a colour-coded rating on a scale from A to G, where A represents the highest energy efficiency resulting in lower fuel bills. A property's EPC rating is determined by the energy consumed per square meter and the level of carbon dioxide emissions measured in tonnes per year.
The rating is given numerically, ranging from 1 to 100 (or 120, in some cases where renewable energy measures are used), and alphabetically, with A being the best and G being the worst.
An EPC rating chart visually represents a property's rating, with A in dark green and G in red. The chart also displays a property's current rating and potential rating after implementing improvements.
To determine a property's EPC rating, a qualified assessor evaluates various factors to assess energy usage within the property, and the resulting score provides the EPC rating.
Newly constructed buildings receive higher EPC ratings, while older homes tend to have EPC ratings of D or E. The average EPC rating in the UK is a D rating, which equates to a score of 60.
How Is An EPC Calculated?
An EPC is calculated based on the energy performance of a property's building fabric, heating system, and hot water system. The assessment considers factors such as insulation, heating controls, and lighting. The property is rated on a scale of A (most efficient) to G (least efficient). The average rating for a property in the UK is currently D.
What Happens If I Don't Have An EPC?
It is a legal requirement for a property to have a valid Energy Performance Certificate (EPC) in order to be let. Failure to obtain an EPC can result in a fine of up to £5,000 by local authorities. In 2025, updated regulations will increase the penalty for not having a valid EPC with a rating of 'C' or above to £30,000.
Landlords must provide a copy of the EPC to their tenants at the start of the tenancy or, if the certificate is renewed while the tenant is in the property, at the earliest opportunity.
Also, landlords must provide their tenants with a copy of the government's How to Rent guide and their Electrical Installation Condition Report (EICR) and Gas Safety Certificate. Failure to provide these legal documents will prevent the landlord from issuing a Section 21 notice.
How Long Does An EPC Assessment Take?
You can inquire with the assessor about the expected timeframe, which can differ between properties. On average, domestic assessments take about 30-40 minutes, while commercial assessments typically last at least 45 minutes. However, the duration may vary depending on the property's size and characteristics.
The assessment involves a visual inspection, with the assessor requiring access to all rooms, including the loft. They will examine heating systems and insulation, take measurements, and capture photographs of essential data from the visual survey. The photos are solely for the assessment and will not be publicly accessible. The assessor will then use this information to generate their report.
The EPC is stored on a national register, which can be accessed through the EPC search facility. The certificate will be publicly available, and some of the underlying data may be shared with others for monitoring and compliance with the Energy Performance of Buildings (EPB) regulations. The government may also use some of this data for research or statistical purposes.
Which properties are exempt from EPC requirements?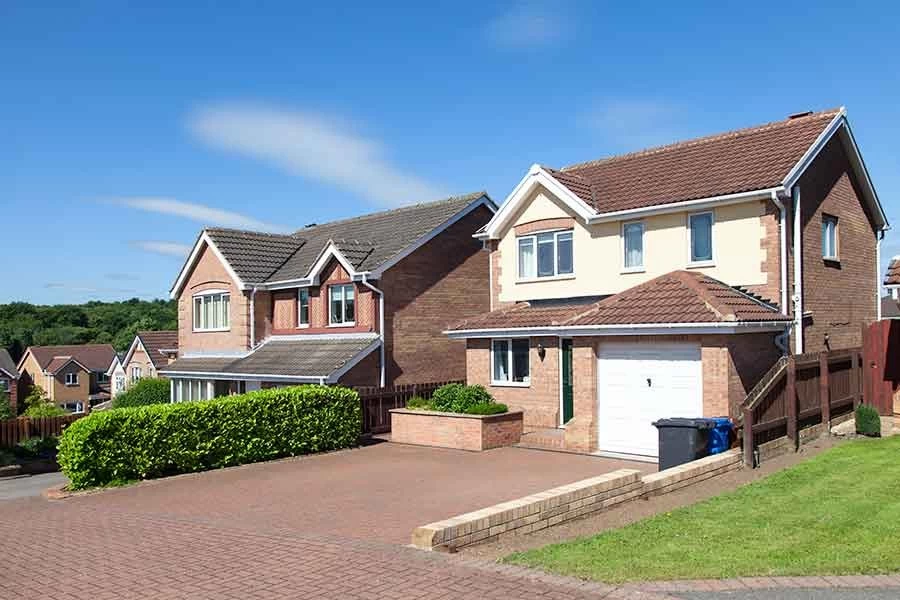 Specific properties may be exempt from complying with the Minimum Energy Efficiency Standards (MEES). For instance, if a property is listed or protected and implementing energy efficiency improvements would significantly alter its character, it may be exempt from EPC requirements.
Other exemptions may apply to temporary buildings intended to be used for two years or less, places of worship, some industrial sites or workshops, and detached buildings with a floor space of 50 meters or less. Additionally, buildings scheduled to be demolished may also be exempt from the MEES.
How much does an EPC cost?
The price of an Energy Performance Certificate (EPC) typically ranges from £55 to £120 (inclusive of VAT), depending on various factors such as the property type and the number of bedrooms.
You cannot issue an EPC yourself, and although estate or letting agents may offer the service, it's advisable to book the assessment directly to secure the most competitive EPC cost.
How to improve your energy efficiency rating.
An EPC provides suggestions for enhancing your property's energy rating, along with estimated costs. These improvements can help you, your buyer, or your tenants save on bills and reduce the property's environmental impact.
Typical recommendations include:
Insulating your floor, roof, loft, or walls: Better insulation reduces heating needs and lowers your energy bill.

Double glazing: Double-glazed windows retain more heat, decreasing the demand for heating.

Solar panels: These generate more affordable, eco-friendly energy. Check our solar panel advice for further details.

Low-energy lighting: A minor adjustment that doesn't require structural changes, using low-energy light bulbs is a cost-effective and straightforward way to reduce energy bills.
The certificate also comprises:
Potential expenses of implementing these improvements and the typical savings over a three-year period;

Estimated costs for heating, lighting, and hot water after improvements are completed;

Total potential savings and the possible energy performance rating you might achieve after making home improvements.
How long is an EPC valid for?
After an Energy Performance Certificate (EPC) is issued, it remains valid for ten years. It is only necessary to obtain a new EPC if the property is sold or a new tenancy agreement is entered into with different tenants.
Along with the EPC, a recommendation report is also provided, which includes suggestions and advice for improving the energy efficiency of the property. Some of the recommendations made by the assessor may include the installation of cavity wall and loft insulation, draught-proofing windows and doors, insulating pipes and tanks, installing a condensing boiler, reducing water usage, considering energy-efficient glazing, and exploring the use of renewable energy technologies like wood-fuelled heaters, solar panels, or wind turbines.
Do I need an EPC certificate if I'm selling or renting a property?
Since October 2008, an Energy Performance Certificate (EPC) has been mandatory for rental properties in England and Wales.
On April 1st, 2018, the Minimum Energy Efficiency Standards (MEES) were introduced, stipulating that all properties being let or sold in England and Wales must have an EPC rating of at least 'E' or higher.
You can book one here.
Is it necessary to obtain my tenant's consent before scheduling an energy evaluation?
Landlords and letting agents are required to provide tenants with a minimum of 24 hours written notice before visiting the property. Since an energy performance assessment and EPC are legal necessities, most tenants will likely agree, though some may prefer to be present during the assessor's visit.
For any property visits, the tenant's approval is mandatory, except in emergency situations such as fires, floods, or gas leaks.