In this article, we will delve into the lifespan of an EICR, the factors that influence its duration, and when you might need to schedule a re-inspection. Understanding the longevity of an EICR is crucial for maintaining a safe living environment and staying compliant with relevant regulations.
The length of time for which an EICR remains valid depends on various factors. The British Standards Institute, which establishes the standards for electrical installations (BS 7671), recommends that commercial properties undergo an EICR at least every five years.
However, this is only a guideline, and the actual frequency depends on factors such as the type of premises, the level of risk associated with the environment, the age and quality of the installation, the users and their frequency of use, manufacturer guidance, and the maintenance of the equipment.
Similarly, landlords are legally required to obtain an EICR at least every five years, starting from April 2021. While business owners and facilities managers are not subject to the same legal requirement, this time frame can be used as a general benchmark for the validity of an EICR.
Ultimately, the electrician's recommendation on your EICR report will offer a definitive answer.
What is an EICR test?
In order to grasp the validity of an EICR, it's essential to comprehend the purpose and process of these reports. EICR, or Electrical Installation Condition Report, involves a comprehensive inspection and testing of a building's electrical system. The evaluation identifies defective work, overloaded circuits, shock risks, fire hazards, and any unsafe wiring.
Upon completion, you'll receive an EICR certificate, which is the actual report detailing any issues that have been discovered. These issues can range from C1 (immediate danger) and C2 (potential danger), which require prompt corrective action, to C3 (no immediate danger) and FI (further investigation needed).
How long is an EICR certificate valid for?
In the UK, an Electrical Installation Condition Report (EICR) certificate is valid for five years as long as no changes or additions have been made to the electrical installation during that period.
Nonetheless, it's advised to have an EICR conducted every three to five years or whenever there is a change of tenancy in a property in order to maintain the electrical installation's safety.
The certificate's validity may be shorter if issues are detected during the EICR inspection, depending on the severity of the problems found. It's crucial to understand that the EICR certificate's validity does not ensure the continuous safety of the electrical installation, and regular checks and maintenance are encouraged.
Do I need an EICR to sell my house?
Fortunately, an EICR is not required to sell your house or apartment.
Nonetheless, an EICR certificate can offer reassurance to potential homebuyers, particularly in a property with older electrical systems.
It is advisable for homeowners to undergo an EICR every ten years to ensure the electrical installation is safe. If you have a current EICR, it's a good idea to have it on hand in case prospective buyers request to see it.
Some estate agents may ask for proof of a valid EICR before agreeing to sell your property.
Who can carry out an EICR?

The Regulations mandate that landlords have their property inspected and tested by a "qualified and competent" person every five years. To simplify the process, the Government has provided comprehensive guidance on how landlords can locate a qualified electrical safety professional.
Electrical safety inspectors and testers can be found through search tools such as the competent person scheme, making it more convenient for landlords to identify a suitable professional. Although membership is not mandatory, some inspectors and testers join this scheme to enhance their visibility.
To ensure a candidate is appropriate when arranging an inspection, landlords can ask the following questions:
Is the inspector a member of a competent person scheme?

What is their experience?

Do they have sufficient insurance?

What qualifications do they possess?

Do their qualifications adhere to the latest Regulations?
What does an EICR inspection involve?
The qualified engineer will evaluate the overall construction quality, performance, and safety of an electrical installation, paying particular attention to deterioration or defects.
The first stage of the test typically involves a visual assessment. Equipment will be inspected for any evident need for repair or replacement, such as breaks or cracks in appliances. There may also be clear signs of overheating, in which case the equipment will need to be replaced.
In older properties, the distribution board may be a fuse cartridge that would now be updated to an MCB board. This electrical upgrade provides enhanced protection with RCD and Earth leakage monitors that trip when a fault arises.
Following that, the qualified electrician will disconnect the electrical installation from the mains power supply. Specific circuits will undergo dead testing to identify any poorly connected wires. There will also be live electrical testing, including a precautionary test to ensure that if a fault occurs in the system, it will disconnect within the required time limit.
This test, in particular, emphasizes one of the key reasons for EICR tests – checking if components are in suitable condition to function as intended in the future.
The qualified electrician will also examine the quality and sufficiency of earthing and bonding, as well as the adequacy of earth protection. Additional equipment, such as switches, sockets, power outlets, light fittings, and any sockets installed in the property, will be further inspected.
The frequency of EICR testing varies depending on the property type.
What happens if my electrics are unsafe?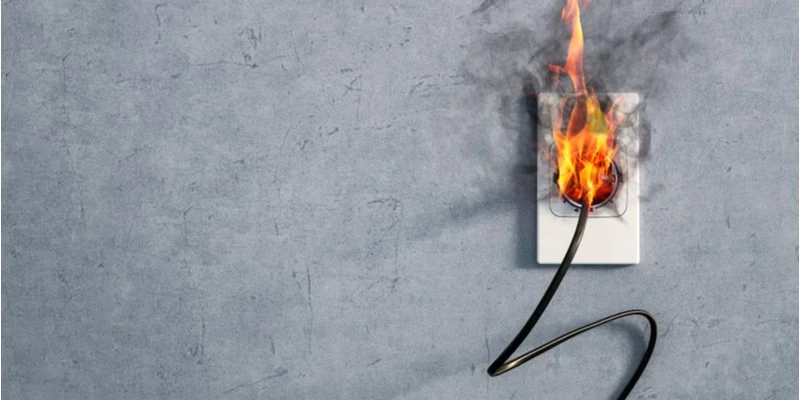 In case the report reveals that the property's electrical safety is compromised, the landlord is responsible for ensuring that the recommended investigative or remedial work outlined in the report is performed by a qualified person. This work must be completed within 28 days or within the time frame specified in the report if it is shorter, starting from the date of the inspection.
Subsequently, the landlord must obtain written confirmation from the qualified person that the work has been completed and the electrical safety standards have been met. This confirmation, along with a copy of the original report, must then be provided to both the tenant and the local authorities.
Do I need an EICR with a rewire done in the last five years?
In cases where your property has undergone a full rewiring, you should receive an Electrical Installation Certificate (EIC).
Under these circumstances, landlords are not required to conduct additional checks or schedule an EICR until five years after the EIC has been issued, as long as they adhere to the regulations. Landlords can provide a copy of the EIC to tenants and, upon request, the local authority.
How much does an EICR cost?
The cost of an Electrical Installation Condition Report can vary depending on factors such as the property's size, the number of rooms, the number of fixed electrical installations that need testing, and the hourly rate of the qualified electrician.
Generally, an EICR for a one-bedroom rental property may cost around £125, while a five-bedroom house could be over £300. The average EICR cost is slightly above £200.
Since prices can differ based on numerous factors, these figures should be considered rough estimates.
Is there a fine for not having an EICR certificate?
Landlords who neglect to carry out an EICR (and any recommended work) before starting a new tenancy may be subject to a fine of up to £30,000. Local authorities are in charge of enforcing these regulations, as outlined in the Housing Act 2004.
Additionally, local authorities can facilitate remedial actions if necessary repairs and improvements identified in the reports are not addressed. Upon receiving a notice for remedial action, landlords have 28 days to complete the work. In the case of an urgent notice, a shorter deadline may be imposed.
What if my property fails the electrical inspection?
If the report necessitates remedial work for the landlord to ensure the property's safety, this work must be carried out by a qualified and competent person within 28 days unless the report indicates a sooner deadline.
The qualified individual must then furnish the landlord with a written confirmation stating that either the safety standards have been met or additional work is needed. This written confirmation must be provided to each tenant within 28 days of completing the initial work. Additionally, the confirmation, along with a copy of the original report, must be submitted to the local housing authority within 28 days of completing any further work.